Polonia Gwardia vs. Stal Mielec - Taken by Cosmopolitan Soccer League
Johan Abdu on Twitter: @JAbdu96
Some say "less is more."
There isn't a better inclusion of the phrase than this weekend's games in the 2nd Division!
Only four teams are set to play this weekend in Week 15 of the Cosmopolitan Soccer League Division 2: The high flying Hoboken FC 1912 are battling against Panatha USA at Laurel Hill Field in New Jersey at 12pm. Once back across the Hudson, we head to Randall's Island where CD Iberia will play against Stal Mielec with kickoff at 8pm.
---
What more can be said about Hoboken?
Spirits are sky high in the state of New Jersey! Ultimately favorites to be promoted to the CSL 1st Division, they boast some of the best records in the 2nd Division this season. They've only allowed 12 goals in 11 matches and scored 53, collecting 29 points along the way. Goals from all over the pitch, positive team spirit and strong defense has shaken the boots of even some of the most experienced veterans in the league.
@hobokenfc1912 on Instagram: 3-0 W for Reserves, 5-2 W for Firsts. Debuts, goals and memories in the snow! - March 11th, 2018
They might not be alone at the top for long though. Polonia Gwardia currently sit in 2nd place in the South, nipping at Hoboken's heels with the Polish side collecting 26 points.
This time around, they face Panatha USA. Panatha USA have found it hard to climb out of the bottom 4 spots in the Southern Division. With only 7 points in 11 matches, they need to put on their best preformance to prevent a demolishing by their opposition. They current sit in 8th place in the South with 2 wins, a single tie and 8 losses - their last win was against fellow strugglers FC Japan 3-1 back in November 2017. Playing away from home, Panatha Head Coach Christoforos Petropoulos need to inspire his first 11 to victory these next few matches to improve on their 7th place finish last season.
---
CD Iberia are hosting Stal Mielec for their 2nd league encounter, with the latter being 6 points above the former in the league table. Who comes out on top?

Stal Mielec hasn't lost a match since October and will play after keeping the aforementioned Hoboken away from a win, drawing to them at Laurel Hill 2-2. Coach Miroslaw Pasternak's team are looking to keep that positive momentum forward.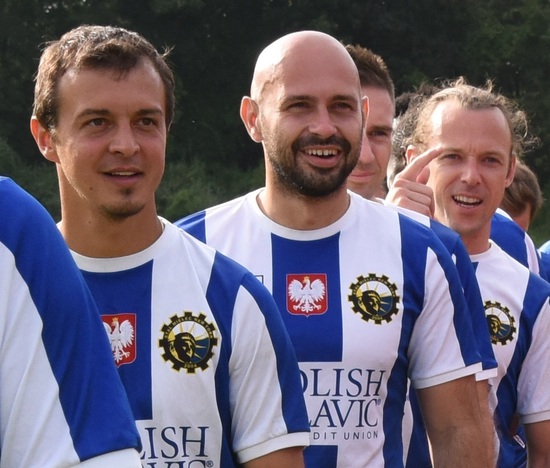 Slawomir, Jaworek and company. - Property of Stal Mielec NY
Talents like Bartlomiej Dziuban, Pawel Marczenia and Jacek Lawniczak have been on the forefront of some of the club's biggest wins this season. Together, they have collectively scored 25 goals for the side this season, keeping their promotion dreams alive.
The team will also see one of their own etch his name into club history as midfielder Marcin Jaworek approaches his 100th cap for the side. They play against Club Deportivo Iberia at Randall's Island Field 75, kickoff at 8:00pm.
Club Deportivo is looking to improve and continue a run into the playoffs late into the season. "We are going into the spring with hopes of making a playoff push." said Head Coach Carlos Vásquez. They also look to creative stalwart Marchello Russo for the goals they need to win the game. The midfielder has been a bonafide starter and goalscorer in the Iberia first team this season, with 7 goals in 10 matches.
---
"Marchello Russo is our target man, his physical presence and speed make him a force to reckon with...We are reliant on our team play. Without it we won't get Marchello into the opportunities he needs to score."

- Vásquez on how reliant Russo is to the team
---
This encounter between both sides will prove to be both entertaining and full of goalscoring and close encounters. Keep your eye on this one and see which team comes out on top!
Sunday, April 15th, 2018
Panatha USA vs. Hoboken FC 1912
Laurel Hill Field 1, Secaucus, NJ, 07094
Kickoff at 12:00pm EST
Club Deportivo Iberia vs. Stal Mielec NY
Randall's Island Field 75, Wards Meadow Loop, New York, NY 10035
Kickoff at 8:00pm EST